Nicholas L. Minervini, DVM

Dr. Minervini was born and raised in New Jersey, having grown up in Ridgefield Park and Parsippany. He received his Bachelor of Arts degree, with Honors, from Rutgers University, Newark School of Arts and Sciences. His major courses of study were Zoology and Physiology. He continued his graduate education at Louisiana State University and the University of the Philippines where he received his degree of Doctor of Veterinary Medicine.
Immediately following graduation Dr. Minervini secured a position at Newton Veterinary Hospital under the auspices of Dr. William Gray. While an associate at this five doctor practice Dr. Minervini recognized the need for a veterinarian in the Flanders/Budd Lake area. As a result he began a house call practice providing veterinary services for local pet owners. After a few short years his clientele had outgrown the limits of his house call practice leading Dr. Minervini to establish Flanders Veterinary Clinic.
In his free time Dr. Minervini enjoys being with his family and multiple pets as well as cooking, fishing, hiking, photography, relaxing at the beach and tending to his orchard and garden.
---
Kim A Slade, DVM
Dr. Slade was born and raised in Lee, Massachusetts, "Norman Rockwell country". She is a graduate of Cornell University College of Veterinary Medicine in Ithaca, NY and received her Bachelor of Arts in Animal Science from Colorado State University.
Dr. Slade joined Flanders Veterinary Clinic as a part time associate in 2003. Sharing the same philosophies of veterinary care, she soon became a valuable asset to the team. Although she enjoys all aspects of general practice, her special interests lie in pediatric and geriatric care. Before joining the staff of Flanders Veterinary Clinic, Dr. Slade was an associate at Mountain Lakes Animal Hospital in Mountain Lakes, NJ.
During her free time Dr. Slade enjoys spending time with her family, hiking, horseback riding her rescued horse, traveling, reading and baking (especially her famous brownies).
Be sure to look for Dr. Slade "around town" always accompanied by the famous "Gabby" her adorable Chihuahua mix.
---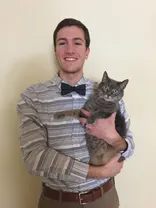 Jesse Gasparro, DVM
Dr. Gasparro was born in New York and grew up in Boonton, New Jersey. He attended William Paterson University for his undergraduate education where he studied Biology. He obtained his veterinary degree from Ross University School of Veterinary Medicine in St. Kitts and finished his clinical year at the University of Pennsylvania.
Immediately after graduation, he stayed in the Philadelphia area and practiced in northeast Philadelphia at VCA Knightswood Animal Hospital before moving back to New Jersey to be closer to his family. When it comes to veterinary medicine, Dr. Gasparro likes doing a little bit of everything, however he particularly enjoys practicing internal medicine and surgery.
During his free time, Dr. Gasparro enjoys spending time with his family and friends, reading, wood-working, and playing tennis. He and his wife have a sweet cat named Lily who they've trained to "sit" and "give paw" for her meals (and pretty much only then).
---
---